Coroplast Printing
---
When looking for an affordable and durable signage options coroplast signs are often the best option. perfect for both indoor and outdoor signage in any situation as well as any size. We will gladly work hard to create a custom coroplast sign for you to ensure optimum attractiveness and efficiency.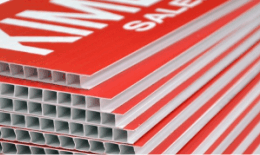 Up to 96" x 48" in one piece
Single colour or full colour graphics
Single sided or Double sided
3mm thick (sample) or 10 mm "HiCore"
3mm thick (sample) or 10 mm "HiCore"
Durable in all weather conditions
Easy to bend, Easy to cut, Easy to clean
Life expectancy 3 - 12 months or occasional use
Can be screwed, cable-tied or staked
Wide variety of colours available
---
Portfolio - Coroplasts by Custom Printing / Brooklin Signs
You can view some of our sign work on our sign portfolio page.