Point of Purchase (POP)
Point of Purchase Printing signs (also referred to as POP) are great signs to put up indoors in order to attract and compliment the product that is being advertised. We are willing to provide many sizes and shapes as well as countless colours and designs. We will work with your unique needs to customize a POP using the numerous materials and graphics we can produce.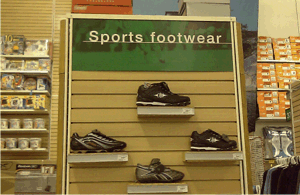 Print point of purchase signs from your requested design or we can design a product for you
Point of purchase signs can range from single, multi or full coloured graphics and text
Available in a variety of material to ensure proper feel and appearance
Optional design and installation to ensure that the sign fits well alongside the desired product
Installation, servicing and maintenance available
---
Portfolio - Point of Purchase (POP) Signs by Custom Printing / Brooklin Signs
Click on the point of purchase (POP) sign images below to enlarge them. You can also view some of our sign work on our sign portfolio page.
---