Changeable Signs
Changeable signs such as plastic letter signs or LED electronic signs are perfect when the information you want to get out to a demographic varies day-to-day. We offer plastic letter signs that have been used commonly throughout the years as a classic way to get across messages. We also offer the next wave of changeable signs in LED electronic, which can stand alone or compliment an already existing sign.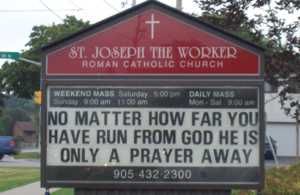 Provide us with your changeable sign idea or we can come up with one for you
Plastic letter changing signs as an easy affordable way to get across multiple messages
Computerized LED electronic sign that can stand alone as a sign or be integrated into a sign, will also show that your organization is very modern
Changeable signs allow your message to always be relevant so you can reach your goal one sign change at a time
Installation, service and maintenance available
---
Portfolio - Business Cards by Custom Printing / Brooklin Signs
Click on the changeable sign images below to enlarge them. You can also view some of our sign work on our sign portfolio page.
---