Directional & Wayfinding
Buildings often require a sense of organization throughout their hallways and foyers. Directional and wayfinding signs are a great way to display professional direction. With specialized modern looks that complement the interior of many designs. We will make sure your rooms, notices and directory boards are labelled properly.
Directional & Wayfinding Sign Characteristics and Customizable Options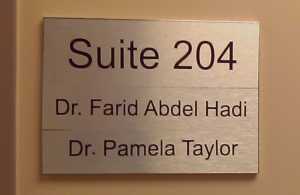 Custom styles available for directional and wayfinding signs to ensure you get the appropriate look for your building
Custom text and sizing to ensure the proper description as well as appropriate visual aid to any space
Changeable signs are manufactured to assure easy updating to any changes that may occurred
Texts to describe directory boards, room identification, permanent notices
Installation, service and maintenance available
---
Portfolio - Directional & Wayfinding Signs by Custom Printing / Brooklin Signs
Click on the directional and wayfinding sign images below to enlarge them. You can also view some of our sign work on our sign portfolio page.
---
Directional & Wayfinding Sign Templates and File Preparation
Have Your Own Directional and Wayfinding Sign Design?
If you are supplying your own directional and wayfinding sign file for printing, you can view detailed information on file preparation for printing under the resources area of the printing section of our site. Directional and wayfinding signs can be produced in almost any custom size to meet your requirements.
Need An Directional and Wayfinding Sign Design?
If you do not have a print ready file for a directional or wayfinding sign or would just like to update your existing directional or wayfinding sign, we can provide you with a professional custom directional or wayfinding sign design. Just contact us by using the Request An Estimate form. We'd be more than happy to work with you to create an directional or wayfinding sign that is just right for you.
---
Directional & Wayfinding Sign Pricing & Ordering Information
We are currently working on creating online price lists for our most popular products including indoor banners and will be launching this feature in the near future. In the meantime, you can Request An Estimate online or contact us and we would be more than happy to provide you with a quotation.
If you have a print ready file and are ready to order your business cards, you can use the Place An Order form to place your order online and we will contact you to confirm everything.