Greeting Cards
Greeting cards are a great way to spread sentiment regardless of the time of year. We offer greeting cards that are a full colour printed and folded card complete with illustrations or pictures that express friendship, thanks or another sentiment. We aim to create and design greeting cards that can strenghthen business, family and friendly relationships.
Greeting Card Printing & Finishing Options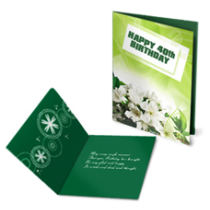 Personalize your cards with variable data printing for a completely unique, custom card
Full Colour Printing, One Colour Printing or Speciality Ink / Foil Printing
Variety of Quality Business Cardstocks (Gloss Coated Cardstock, Gloss Coated 1 Side Cardstock, Uncoated Cardstock, Linen & Specialty Cardstock)
Fast, efficient service – Same day printing available for standard greeting cards
Any custom size can be supplied, standard sizes include 10 x 7" flat (5 x 7" folded); 11 x 8.5" flat (5.5 x 8.5" fodled); 8.5 x 5.5" (4.25 x 5.5" folded)
Printed or blank matching envelopes available
---
Portfolio - Greeting Cards by Custom Printing / Brooklin Signs
A sample of some of the many greeting cards we have printed for local businesses. Click on the image for a larger view.
---
Greeting Card Templates and File Preparation
Have Your Own Greeting Card Design?
If you are supplying your own greeting card file for printing, you can view detailed information on file preparation for printing under the resources area of the printing section of our site. Standard greeting cards are 10 x 7" flat (5 x 7" folded); 11 x 8.5" flat (5.5 x 8.5" fodled); 8.5 x 5.5" (4.25 x 5.5" folded).
PDF File Downloads
Greeting Card 10 x 7" flat (5 x 7" folded) Template
Greeting Card 11 x 8.5" flat (5.5 x 8.5" fodled) Template
Greeting Card 8.5 x 5.5" (4.25 x 5.5" folded) Template
Need A Greeting Card Design?
If you do not have a print ready file for your greeting card or would just like to update your existing greeting card, we can provide you with a professional custom greeting card design. Just contact us by using the Request An Estimate form. We'd be more than happy to work with you to create a greeting card that is just right for you.
---
Greeting Card Pricing & Ordering Information
We are currently working on creating online price lists for our most popular products including greeting cards and will be launching this feature in the near future. In the meantime, you can Request An Estimate online or contact us and we would be more than happy to provide you with a quotation.
If you have a print ready file and are ready to order your greeting cards, you can use the Place An Order form to place your order online and we will contact you to confirm everything.