The Brooklin Bulletin Newspaper 1959-60
Newspaper Archives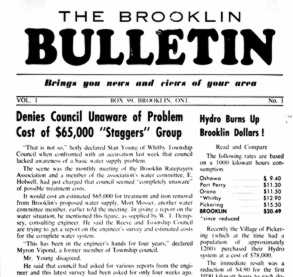 The Brooklin Bulletin community newspaper was published in Brooklin, Ontario by The Brooklin Bulletin Publishing Co., Ltd from April 1959 to December 1960. The newspaper offered local news, information, and advertising for residents of The Township of Whitby.
You can access the available publications of The Brooklin Bulletin below online free for viewing. You can order prints or an electronic copy of The Brooklin Bulletin here.
The files are PDF format and you will need and up to date version of Adobe Reader to view the files. The files have been processed with OCR (Optical Character Recognition) software to allow you to search the files within Adobe Reader.
Item #
Item Name

The Brooklin Bulletin; Volumes 1 to 2; Years 1959 to 1960

BBV01N01P

BBV01N02P

BBV01N03P

BBV01N04P

BBV01N05P

BBV01N06P

BBV01N07P

BBV01N08P

BBV01N09P

BBV01N10P

BBV01N11P

BBV01N12P

BBV02N01P

BBV02N02P

BBV02N03P

BBV02N04P

BBV02N05P

BBV02N06P

BBV02N07P

BBV02N08P

BBV02N09P

BBV02N10P