A Little Bit About Us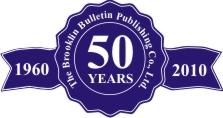 The Brooklin Bulletin Publishing Co., Ltd. published 'The Brooklin Bulletin' news publication from April 1959 to December 1960 in Brooklin, Ontario. You can view the history of the company, PDF files of the archived The Brooklin Bulletin and other information on the The Brooklin Bulletin Newspaper 1959-60 page.
Since it's beginning in 1959 the company has continued to evolve to meet the changing needs of it's clients. Today The Brooklin Publishing Co., Ltd. operates as CustomPrinting.ca and Brooklin Bulletin Signs. It provides clients with full service printing and copying, sign manufacturing/service and display advertising solutions.
Visit our Products & Services section for more information on the services we provide today, including: printing and copying; wide format printing; sign manufacturing, installation and service; digital signs; and display advertising solutions.